Are you considering buying a Nutribullet Pro 900? Or are you in the market for a fast, powerful yet compact blender? Here is what Best Products Center loved and what we didn't like.
Nutribullet Pro 900 Features
The NutriBullet Pro features 900 watts of power, making it faster and stronger than the original but just as simple to use.
All you need to do is load it up with dense whole foods like nuts, seeds, hard fruits, and kale, then push, twist, and blend your way to a healthier lifestyle.
The refined nutrient extraction blades and Optimized 900-watt motor blend the most challenging whole foods into nutritious shakes, smoothies, and nut butter.
Moreover, the robust stainless steel Extractor blades use Cyclonic action to break down the toughest ingredients.
The high-performance, BPA-free plastic cups are long-lasting and Durable.
Hassle-free cleaning – simply twist off the blade, rinse with soap and water, and put the cups in the top rack of the dishwasher.
This Nutribullet Pro 900 comes with a 1-year Limited warranty.
Included In The Box
(1) 900W motor base,
(1) Extractor blade,
(2) 32 oz. Cup,
(2) to-go lid,
(2) lip ring,
(2) lip ring with handle
and recipe book
Here is What We Love About Nutribullet Pro 900
The NutriBullet Pro 900 is very compact.
It doesn't take up much counter or storage space, making it an excellent choice for those with limited kitchen space.
It is also perfect for taking it with you when traveling.
It has many healthy recipe booklets you can experiment with, which is ideal for you if you start making tasty recipes.
Additionally, it's super easy to use; you will quickly master using this blender without even consulting the manual.
The plastic is BPA-free and dishwasher safe; no toxins to seep into your drink.
More importantly, you'll also save on cleanup time.
The design is pretty sleek. It will fit right on your countertop.
The 32-oz blending cup is relatively large for a bullet blender. You can make smoothies with many ingredients, and you can even make batches big enough for two.
What We Didn't Like About Nutribullet
The NutriBullet Pro 900 is prone to cracking, primarily made from plastic.
Unfortunately, it is not a blender made for the long term.
Only one pulsing speed; thus, you don't have much control over blending consistency.
The blade is not very durable, so it can break if you use it for challenging tasks such as ice crushing.
If ingredients get stuck, you'll have to stop and start it again.
The noise is one of the biggest complaints in customer reviews.
Here is our bestseller if you are looking for a professional blender.
NutriBullet Pro - 13-Piece High-Speed Blender/Mixer System with Hardcover Recipe Book Included (900 Watts) Champagne, Standard
2 new from $74.65
Free shipping
as of December 8, 2022 2:06 am
NutriBullet Special Edition NutriBullet Pro 900 - Watt Blender (6)
31 new from $79.99
1 used from $104.99

as of December 8, 2022 2:06 am
NutriBullet N12-1001 10pc Single Serve Blender, Includes Travel Cup, One Size, Gray
as of December 8, 2022 2:06 am
nutribullet Personal Blender for Shakes, Smoothies, Food Prep, and Frozen Blending, 24 Ounces, 600 Watt, Gray, (NBR-0601)
5 new from $61.80
Free shipping
as of December 8, 2022 2:06 am
NutriBullet NB50100C Pro 1000 Single Serve Blender (1000W) 7-Piece Set, Dark Gray/Light Gray Skirt
15 new from $79.87
3 used from $59.87
Free shipping
as of December 8, 2022 2:06 am
Ninja BN301 Nutri-Blender Plus Compact Personal Blender, 900-Peak-Watt Motor, Silver
4 new from $78.30
11 used from $64.95
Free shipping
as of December 8, 2022 2:06 am
Blender Replacement Parts Cross Blade Fits Original NutriBullet 600w / 900w Pro Extractor Blade Series Nutribullet Accessories Blade with 2 Silicone Rubber Gaskets Seal Ring
as of December 8, 2022 2:06 am
NutriBullet ZNBF30500Z Blender Combo 1200 Watt, 1200W, Dark Gray
12 new from $121.95
Free shipping
as of December 8, 2022 2:06 am
32 oz Blender Cups & 6 Fins Blender Blade Kit Replacement Parts Compatible with Nutribullet 600W & Pro 900W Series Smoothies Juicer Mixer Models NB-101B NB-101S NB-201 | 2 Cups & 2 Blades w/Brush
out of stock
as of December 8, 2022 2:06 am
Ninja BN401 Nutri Pro Compact Personal Blender, Auto-iQ Technology, 1100-Peak-Watts, for Frozen Drinks, Smoothies, Sauces & More, with (2) 24-oz. To-Go Cups & Spout Lids, Cloud Silver
11 new from $79.99
6 used from $70.55
Free shipping
as of December 8, 2022 2:06 am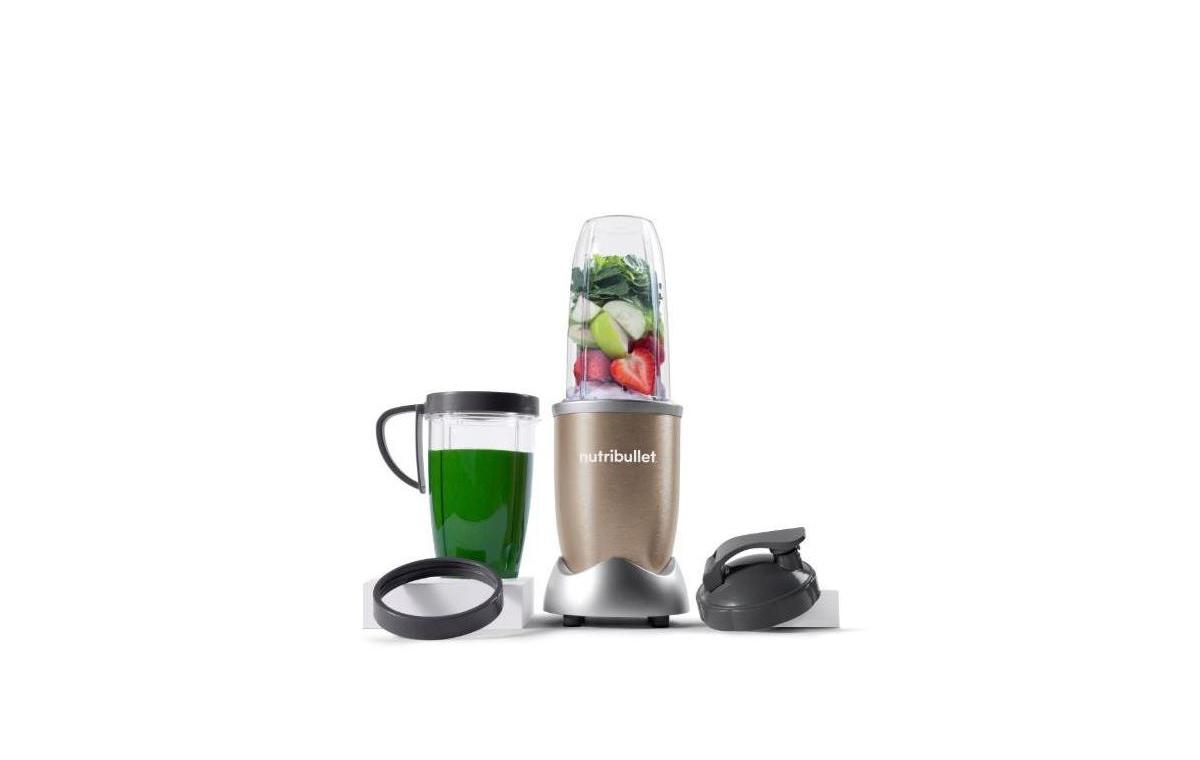 NutriBullet NB9-0901 Pro
as of February 16, 2022 7:53 am
NutriBullet NB9-0901 Pro Home - Kitchen Kitchen - Small Appliances
7 Best Smoothie Blenders Soups, Sauces, and More
Welcome to Best Products Center. In this video, I'll show you the top 7 Best Smoothie Blenders. ⬇⬇BUY NOW⬇⬇ 1➛ Blendtec ...