Magic Bullet Blender
This Magic Bullet countertop blender makes your favorite snacks like smoothies and dips.
The flip-top to-go lid lets you carry your smoothie conveniently, while the dishwasher-safe cups made from high-impact plastic ensure easy cleanup.
This Magic Bullet countertop blender includes a recipe book to help you make delicious drinks.
Product Highlights
Hi-speed blender and mixer system
250-Watt Motor
Super-versatile appliance: it mixes, chops, whips, and grinds
Easy to use, easy to clean
Dishwasher safe components
Quick assembly
Pros:
Great smoothies
Ease of use
Reasonable Price
Cons:
Not powerful enough
Not too easy to clean
What You Get
Magic Bullet High-Torque Power Base
The Bullet base holds 250 watts of power to drive your culinary creations.
1 Magic Bullet Tall Cup
Use to mix and store ingredients.
1 Party Mug and 2 Comfort Lip Rings
Blend and serve frozen party drinks and smoothies in the same mug. Comfort lip rings turn your mug from a mixing appliance to a perfect party cup!
1 Stainless Steel Cross Blade
Use for chopping, grating, grinding, and blending.
2 Stay-Fresh Re-sealable Lids
Twist onto Tall Cups and Party Mugs to keep leftovers fresh.
A Short Cup
Use the Short Cup for creations of lesser quantity or personal serving sizes, such as chopping onions, making whipped cream, or preparing a two-egg omelet.
Flip Top To-Go Lid
In a rush? No problem! Take your treats on the go with this convenient flip-top lid.
10-Second Recipes Book & User Guide
Learn all the Magic Bullet techniques and get inspired with recipes ranging from superfast and tasty omelets to homemade whipped cream.
Magic Bullet Blender, Small, Silver, 11 Piece Set
10 new from $39.88
Free shipping
as of March 23, 2023 12:30 pm
Features
Included: (1) 250W motor base, (1) cross-blade, (1) tall cup, (1) short cup, (1) party mug, (2) lip rings, (2) Stay-Fresh resealable lids, (1) to-go lid and 10-second recipe guide
The magic bullet chops, mixes, blends, whips, grinds and more. Cups are made out of high-impact plastic
Effortlessly create your favorite meals and snacks like smoothies, omelets, sauces and dips. 250 watts high-torque power base
Included recipe book gets you started making quick, easy, and delicious dishes from appetizers to desserts. Add 1/2 cup water for smooth blend for vegetables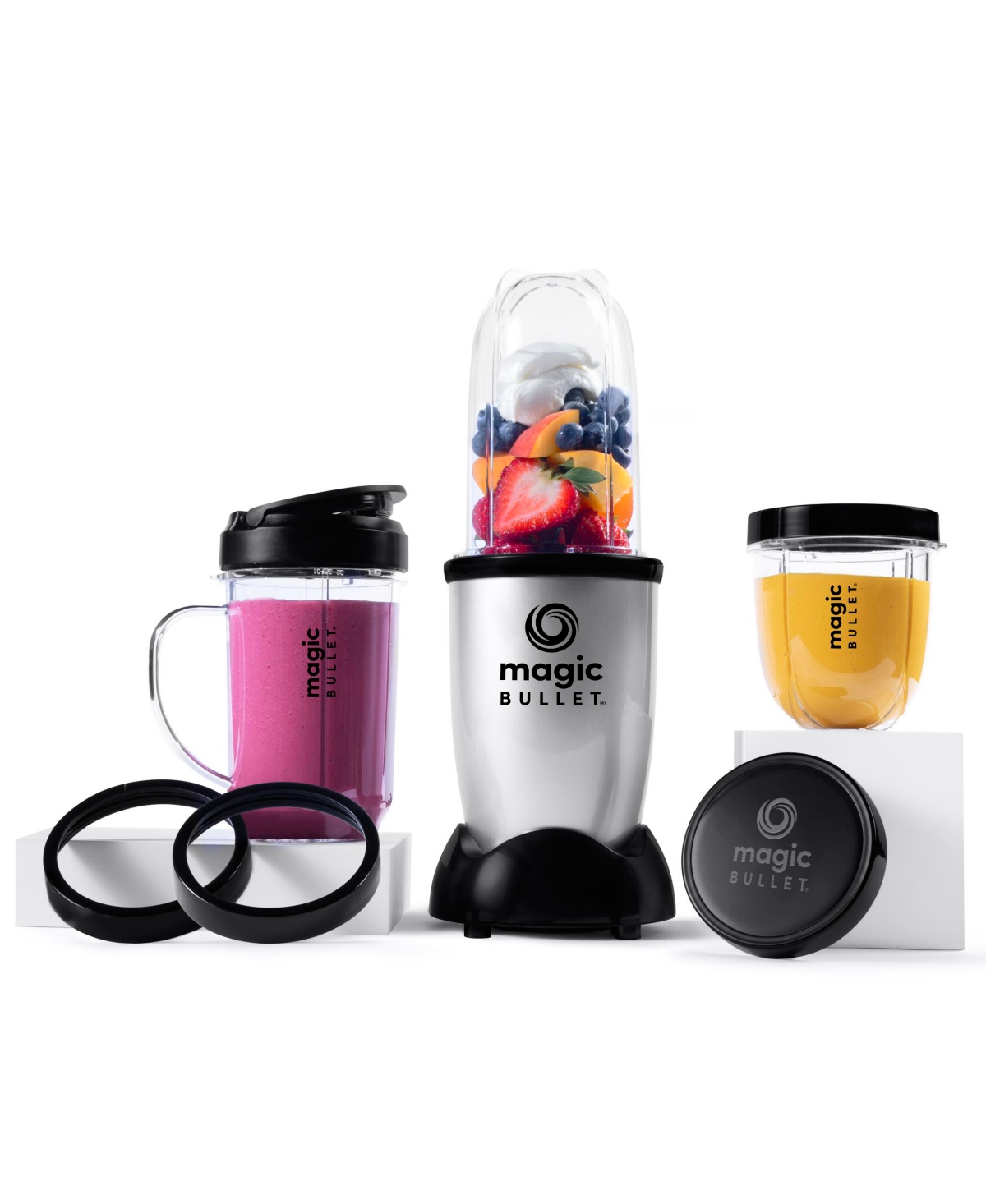 The Original Magic Bullet MBR1101
as of November 15, 2021 3:51 pm
The Original Magic Bullet MBR1101 Home - Kitchen Kitchen - Small Appliances